Caregiver Coronavirus Protection Guide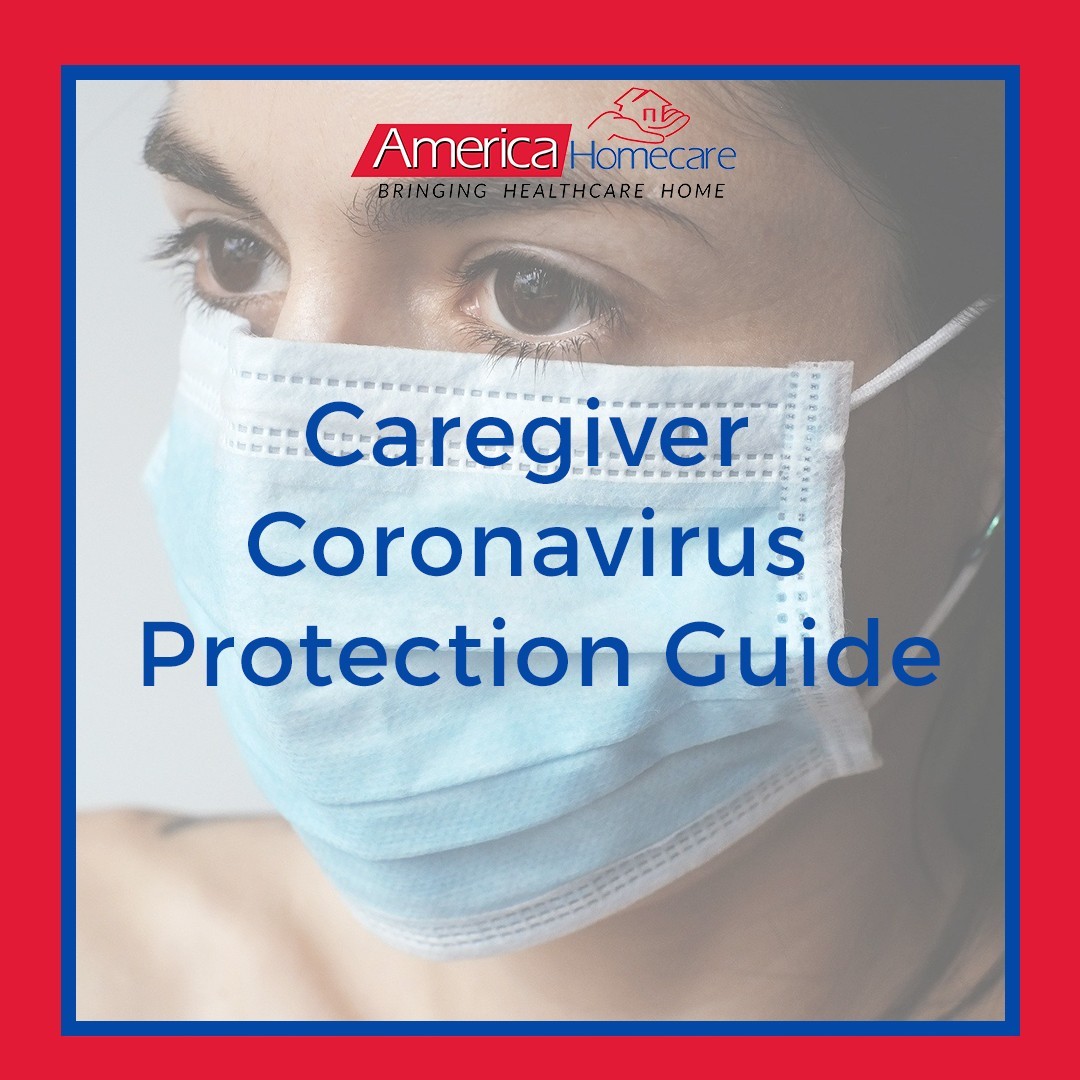 Caregiver Coronavirus Protection Guide | America Homecare
The CDC has provided a corona protection guide from all their findings. However, coronavirus or COVID-19 is a newly discovered virus. Experts constantly learn more and more about it. At the moment, there is no vaccine. Taking proper steps to protect yourself and others can lower the spread significantly. In this post, we cover specifically a caregiver coronavirus protection guide.
Please note that people who are at higher risk for COVID-19 include the following groups:

65+ year olds
nursing home or LTC-facility communities
people with chronic lung disease or moderate to severe asthma
people with serious heart conditions
those who are immunocompromised (cancer treatment, smoking, bone marrow or organ transplantation, immune deficiencies, poorly controlled HIV/AIDS, and prolonged use of corticosteroids and other immune weakening medications are some of the things that cause one to be immunocompromised)
people with severe obesity (BMI of 40+)
people with chronic kidney disease undergoing dialysis, liver disease, or diabetes
Other people who are at risk are pregnant people and people experiencing homelessness.
Community organizers' planning for COVID-19 should include those who are at an increased risk of the virus. Additionally, the organizations that support these people in their communities should take every step to ensure their needs are taken into consideration.
Assisted-living, long-term care (LTC), continuing care retirement, and independent living facilities all should be vigilant to prevent the start and spread of coronavirus.
Coronavirus victims may experience coughs, fevers, and difficulties breathing. These facilities should screen staff and visitors if they experience any of the symptoms.
These facilities can use alternatives to physical doctor visits and checkups, like telehealth. These services can ensure residents continue to receive care when regular schedules are disrupted or if residents are unable to make it to a physical location.
Identify individuals with medical, access, and functional needs that require extra care and attention. Work with them to make a plan if they or their caretakers become ill.
Plan for the possibility that usual services may be disrupted. (ex: hospitals and other healthcare facilities, banks, stores, restaurants, government offices, and post office)
Plan alternative ways for residents to socially interact. These ways may include replacing in-person social meetings with video conferences or telephone calls. Meeting in small groups in open outdoor spaces while maintaining a distance of at least 6 feet between persons is also a good solution.
Keep your community informed about COVID-19. Inform residents with easy-to-understand, eye-catching printed materials like flyers, handouts, or even posters. Display this printed information in a high-traffic, busy area. If it is possible, use video services to provide information to a large group of people.
Family and caregivers should resume their everyday steps to staying healthy.
Wash hands often, avoid touching your face/eyes/nose, avoid sick people and crowds, and disinfect commonly-used surfaces. Review your loved ones' COVID-19 plan (and have a plan for yourself).

Know what medications they are taking and see if you can help them get extra on hand.
Monitor food and other medical supplies (oxygen, incontinence, dialysis, wound care) as needed. Also, be sure to create a back-up plan.
Stock up on food, pantry, hygiene, and care items to have in the home. This will minimize store trips and gathering with others.
If you care for a loved one living in a facility, monitor the situation. Ask about the health of the other residents frequently.
Know the protocol if there is an outbreak.
Find out if your loved one's medical providers have a formal "telehealth" system. If not, ask if they can still communicate by telephone, as opposed to in-office visits. This will ensure your loved ones will get their care in case there are interruptions to regular services.
Resource links:
Get care from someone you trust
Do you want to receive care from your
loved one while they are compensated
by Medicaid?
Find out more