COVID-19 Vaccine Possible Side Effects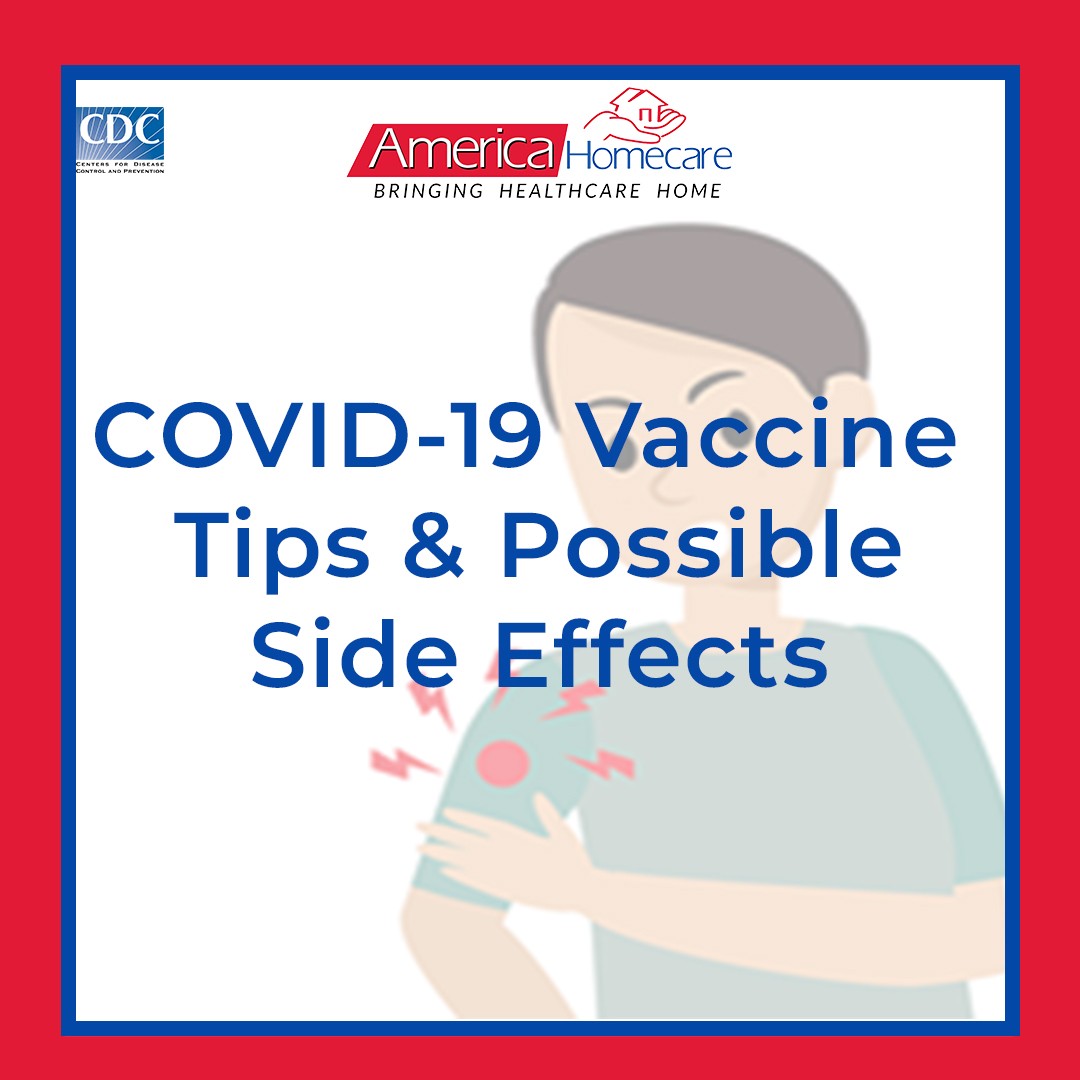 As COVID-19 vaccines start becoming more available to larger demographics, it's important to know the vaccine side effects. These COVID-19 vaccine side effects may affect your daily routine but typically only last a few days. Some people experience no side effects at all. Experiencing side effects to the vaccine is normal and means your body building protection. Side effects may be more intense after your second shot compared to the first.
Starting March 30, all NY residents aged 30 and up will be able to schedule and receive their vaccines. On April 6, this will expand to include New Yorkers aged 16 and over.
As a reminder, America Homecare is now offering COVID-19 tests via drive-thru, group/corporate, or at-home testing.
Pfizer-BioNTech Vaccine
Name: BNT162b2
Manufacturer: Pfizer, Inc., and BioNTech
Number of shots: 2 shots, 21 days apart
How it's given: Shot in the muscle of the upper arm
Does not contain: eggs, preservatives, or latex
Moderna Vaccine
Name: mRNA-1273
Manufacturer: ModernaTX, Inc.
Number of shots: 2 shots, one month (28 days) apart
How it's given: Shot in the muscle of the upper arm
Does not contain: eggs, preservatives, or latex
Janssen/J&J Vaccine
Name: JNJ-78436735
Manufacturer: Janssen Pharmaceuticals Companies of Johnson & Johnson
Number of shots: 1 shot
How it's given: Shot in the muscle of the upper arm
Does not contain: eggs, preservatives, or latex
The J&J/Janssen vaccine is recommended for people aged 18 years and older.
The CDC suggests to get the first vaccine available to you. Do not wait for a specific brand as it also does not recommend one vaccine over another. All COVID-19 vaccines are safe and effective. Talk to your doctor about taking over-the-counter medicine like ibuprofen, acetaminophen, aspirin, or antihistamines for any pain or discomfort you feel. You can take these medications if you have no other medical reasons preventing you from taking them.
It is not recommended to take these medicines before the vaccine.
People are considered fully vaccinated two weeks after their second shot or from their single J&J shot. When you are fully vaccinated for COVID-19, you may be able to start doing some things that you had stopped doing because of the pandemic.
After you've been fully vaccinated against COVID-19, you should keep taking precautions in public places like wearing a mask, staying 6 feet apart from others, avoiding crowds and poorly ventilated spaces, and washing your hands often.
These side effects are more common.
Pain, swelling, and/or redness where you received the shot
Tiredness
Headaches
Muscle pains
Chills
Fever
Nausea
Other tips to ease the side effects.
Apply a cool, wet washcloth on the area where you got the shot
Use or exercise your arm
Drink plenty of fluids
Dress lightly
When to call the doctor
If the redness or soreness where you got the shot gets worse after 24 hours
If your side effects are worrying you or do not seem to go away after a few days
NOTE: After you get a COVID-19 vaccine and you think you might be having a severe allergic reaction after leaving the vaccination site, seek immediate medical care by calling 911. Learn more about COVID-19 vaccines and rare severe allergic reactions.
Resource links:
Get care from someone you trust
Do you want to receive care from your
loved one while they are compensated
by Medicaid?
Find out more