COVID-19 Vaccine Information [UPDATED]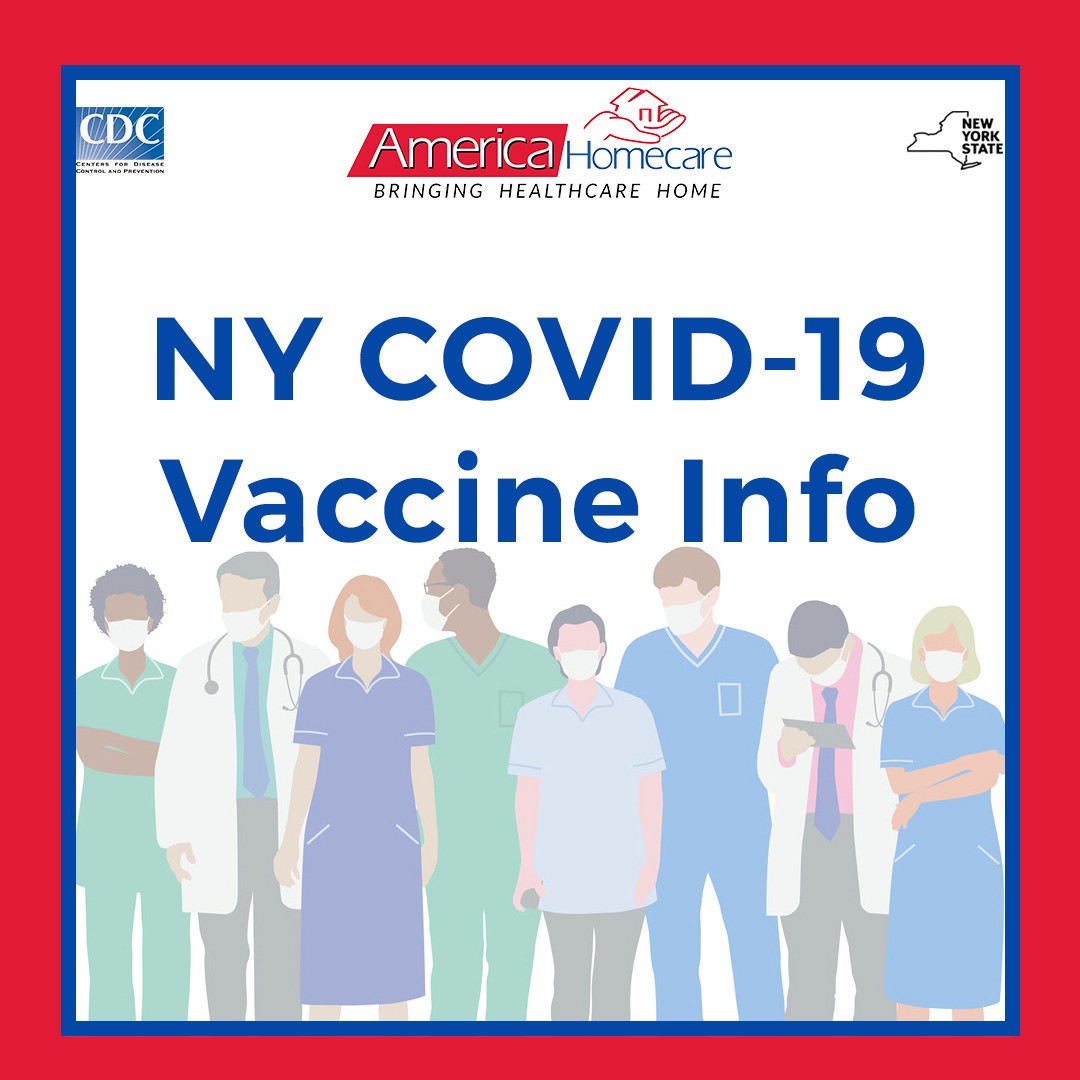 In this blog post we cover New York's COVID-19 vaccine information and qualifications. As of January 11, New York has expanded the list of qualified persons who can receive the coronavirus (or COVID-19) vaccine. On February 15, this list was expanded even further.
Beginning March 17, the following essential workers are eligible:
Public-facing government and public employees
Not-for-profit workers who provide public-facing services to New Yorkers in need
Essential in-person public-facing building service workers
If you are located in a state other than NY, you should research that state's vaccine rollout as it may be different. The CDC website may also include some useful information.
Starting March 30, all NY residents aged 30 and up will be able to schedule and receive their vaccines. On April 6, this will expand to include New Yorkers aged 16 and over.
As a reminder, America Homecare is now offering COVID-19 tests via drive-thru, group/corporate, or at-home testing.
At the moment, there are two types of vaccines available. They are both mRNA vaccines. They do NOT give someone the virus that causes COVID-19 and do NOT affect our DNA.
mRNA vaccines (or messenger RNA vaccines) teach our cells how to make a protein—or even just a piece of a protein—that triggers an immune response inside our bodies. That immune response, which produces antibodies, is what protects us from getting infected if the real virus enters our bodies. mRNA vaccines are relatively new, but have been studied for the flu, zika, rabies, and cytomegalovirus (CMV).
Pfizer-BioNTech Vaccine
Name: BNT162b2
Manufacturer: Pfizer, Inc., and BioNTech
Number of shots: 2 shots, 21 days apart
How it's given: Shot in the muscle of the upper arm
Does not contain: eggs, preservatives, or latex
Moderna Vaccine
Name: mRNA-1273
Manufacturer: ModernaTX, Inc.
Number of shots: 2 shots, one month (28 days) apart
How it's given: Shot in the muscle of the upper arm
Does not contain: eggs, preservatives, or latex
Janssen/J&J Vaccine
Name: JNJ-78436735
Manufacturer: Janssen Pharmaceuticals Companies of Johnson & Johnson
Number of shots: 1 shot
How it's given: Shot in the muscle of the upper arm
Does not contain: eggs, preservatives, or latex
The J&J/Janssen vaccine is recommended for people aged 18 years and older.
The CDC suggests to get the first vaccine available to you. Do not wait for a specific brand as it also does not recommend one vaccine over another. All COVID-19 vaccines are safe and effective.
To begin the process of getting a vaccine in New York, you would need to follow these steps.
1. Determine if you are eligible and schedule an appointment.
The Am I Eligible website is the quickest way to see if you're eligible and make an appointment. You can also call the New York State COVID-19 Vaccination Hotline at 1-833-NYS-4-VAX (1-833-697-4829). Once you have successfully scheduled an appointment, you will receive a confirmation email that contains a barcode. You will need to bring this to your appointment.

You can also use vaccinefinder: https://vaccinefinder.org/search/
2. Complete the Vaccine Form.
After booking, you must complete the New York State COVID-19 Vaccine Form. When the form is completed, you will receive a submission ID. You will need to bring the submission ID to your appointment. If you cannot submit the form online, it will be available at the vaccination sites.
3. Bring proof of eligibility to your appointment.
Depending on your eligibility category, proof can include an employee ID card, a letter from an employer or affiliated organization, a pay stub, a driver's license, passport, or any legal proof of your date of birth and residency.
At the time of your appointment, you'll be asked a series of clinical questions to ensure readiness for a vaccine. You will be asked for insurance information, but the vaccine is free and there will never be a charge to you.
4. Your second dose appointment will be scheduled automatically when you receive your first vaccine dose.
No matter which vaccine you choose, you have to take it in two does. Your second appointment will be scheduled for the same time and at the same location, three weeks following your first dose.
You will receive a card onsite with the date and time indicated and a confirmation email will follow a few days later. Keep in mind when scheduling your first appointment that your second will occur at the same time of day.
Who is eligible for the vaccine?
Eligible groups include doctors, nurses, and health care workers; people aged 65 and over, first responders, teachers, public transit workers, grocery store workers, and public safety workers. 
For a full, detailed list of eligible people, you can visit this link. https://covid19vaccine.health.ny.gov/phased-distribution-vaccine
Vaccines are available at pharmacies, hospitals, and through local health departments statewide. Contact your provider of choice to schedule your vaccine appointment. Both vaccines require two doses for effectiveness. Appointments are not transferable.
What happens after the vaccine?
If you receive a COVID-19 vaccine, you must still practice the same precautions as before. You still need to wear a mask when out in public and remain six feet apart from others. Continue to practice proper handwashing, disinfecting, and general hygiene. You should also avoid poorly ventilated spaces.
Since the COVID-19 vaccines are new, it's uncertain if you can still transfer the virus to other people who are NOT vaccinated.
Get care from someone you trust
Do you want to receive care from your
loved one while they are compensated
by Medicaid?
Find out more