Most Common Conditions Requiring Caregivers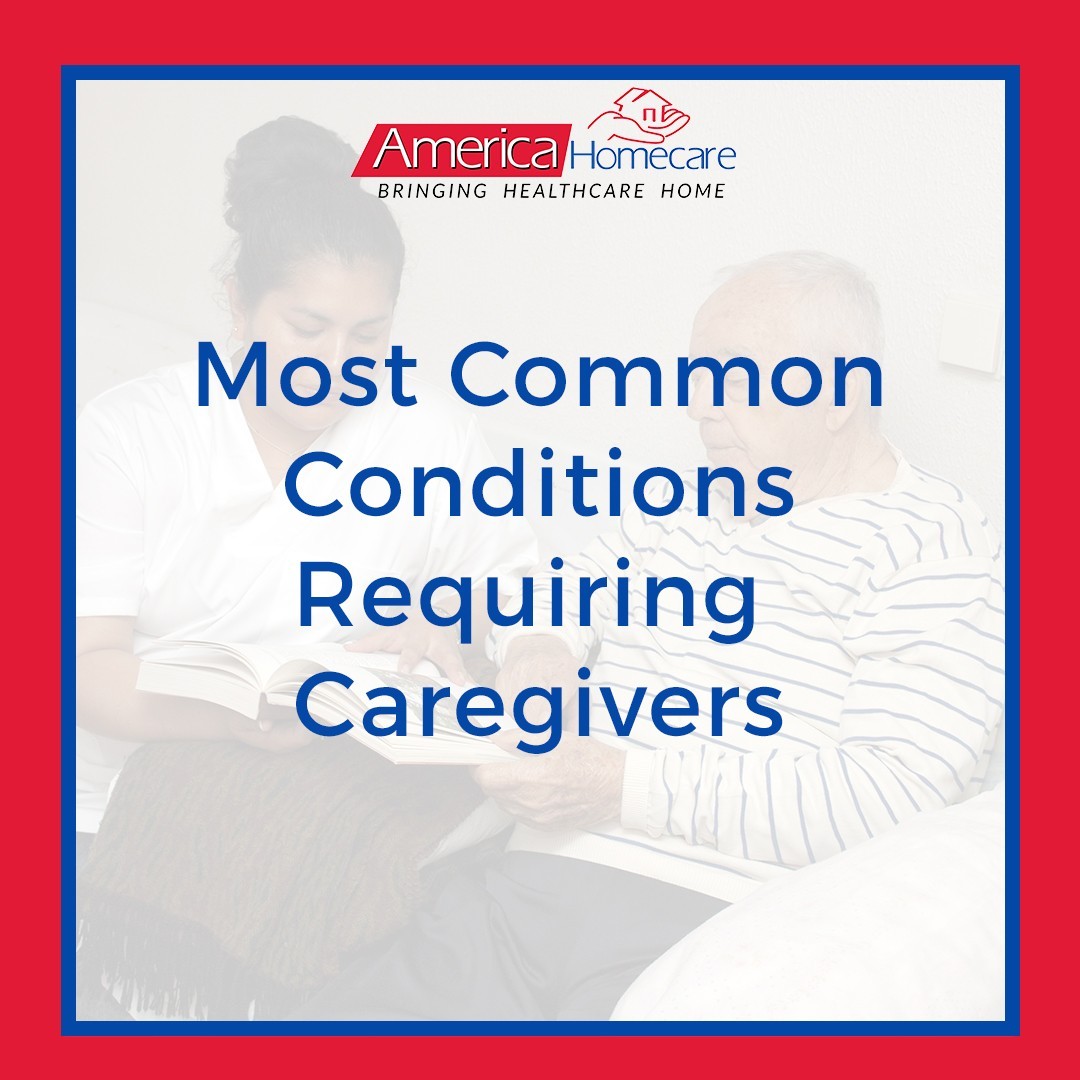 Most Common Conditions Requiring Caregivers | America Homecare
People need care for various illnesses and injuries. As a caregiver, you'll be offering your assistance to different kinds of recipients. While most care recipients will have a long-term health condition, there will also be many who will have a short-term medical condition. Some of the most common conditions requiring caregivers include the following conditions.
Alzheimer's/Dementia: Since Alzheimer's is a progressive disease, your role as a caregiver will also change while providing daily care to the patient. (We also covered some caregiving tips specific to Alzheimer's previously.)
Cancer: As a caregiver, you may help feed, bathe and dress cancer patients. You'll also be lending emotional support and managing their daily tasks.
Mental Health Disorders: Your role as a caregiver for patients with mental health disorders will require specialized care. This may include daily care, supervision of medication, and handling the behavioral/mood swings of the patient.
Developmental Disabilities: Children or adults with intellectual or developmental disabilities need special care at home and social events. This is where you'll assist a person with feeding, bathing, giving medicine, running errands, and keeping company.
Traumatic Spinal Cord or Brain Injuries: As a caregiver, you will require to assist people dealing with severe injuries in many ways. Bladder and bowel management, feeding, cleaning as well as other daily routine activities are included in these tasks.
These are a few of the most common conditions requiring caregivers and some of the caregiver duties. Keep in mind that not every case and patient is the same. Be sure to always use your best judgement and treat your clients with compassion.
Resource link:
https://www.sciencecare.com/blog/family-caregivers-conditions-requiring-care
About the author:
Ariel WriterProfessional Writer and Social Media Expert


I need to invite you to get the prizes of my creative resources and capacities of content creation that I had amassed over the many years of being in this field. My capabilities in content creation for a wide scope of topics. These include the creation of blog posts, articles, bulleted articles, press releases, webpage content, etc. I guarantee proficient examination, timely deliveries, and a creative approach towards all content that I help create. Along these lines, connect with me with your needs for content creation ASAP.

Visit me on fiverr: https://www.fiverr.com/ariel_writer
Get care from someone you trust
Do you want to receive care from your
loved one while they are compensated
by Medicaid?
Find out more